Westerns Current and In Production (2014-2022)
It will be no news to fans of western movies that not many of them are made by the big studios these days.  Such big-budget mainstream westerns last enjoyed a minor vogue in the first half of the 1990s, when Dances With Wolves and Unforgiven won Best Picture Oscars.  But the occasional such western continues to be made, and we look forward with hope when we hear about a new western in production with major talent.  Those listed below were released, or at least seen at film festivals, in 2014, or are currently in production and scheduled for release in 2015 or 2016.  Of course, statistically speaking only one or two of these are likely to be any good, but until we see them we can hope they all will be. This list is probably incomplete, and we'll update it from time to time as we hear of others; if you know of another such major western production not included, leave a comment.  In due course, each of these will probably have its own post, unless it turns out to be terrible—and maybe there'll be a post for it even then.
Having said all that, a recent publication referred to 2016's Outlaws and Angels as part of a "wave of revivalist Westerns including The Hateful Eight, Bone Tomahawk and The Revenant that demonstrate how the Western, like all genres, really works as a way of reflecting the times in which it is made."  So something larger may be happening, too.
A Million Ways to Die in the West (released in May 2014; DVD out in October 2014).  Seth MacFarlane writes, directs and stars in this coarse and bawdy western comedy, with Neil Patrick Harris, Charlize Theron, Amanda Seyfried, Liam Neeson, Sarah Silverman, and Giovanni Ribisi.  It did not get good reviews generally.
The Keeping Room (September 2014).  As the Civil War winds to an end, three southern women (Brit Marling, Hailee Steinfeld and Muna Otaru) take up arms to defend themselves against two deserters (Sam Worthington and Kyle Soller) from the fast-approaching Union army in this feminist empowerment quasi-western.  Daniel Barber directed, and Julia Hart wrote the screenplay.
The Homesman (released in November 2014; with the DVD out in February 2015).  Directed by and starring Tommy Lee Jones, with Hilary Swank in the other key role.  Based on a novel by Glendon Swarthout (The Shootist, They Came to Cordura), it met with a mixed critical reception and played only in art cinema houses, so it was not much seen.  The story of a woman (Swank) taking several mentally deranged women east from Nebraska to receive care, she is accompanied by a seedy ne'er-do-well (Jones) and a relationship of sorts develops in the course of their adventures.
The Salvation (seen at film festivals in 2014, including Cannes; slated for release in the U.S. in theaters and video-on-demand in late Feb. 2015).  Mads Mikkelsen and Eva Green star in this Danish production about a former Danish soldier in the American west who seeks revenge for the murders of his family.
Echoes of War (said to be in theaters in May 2015).  A former Confederate soldier (James Badge Dale, one of the brighter spots in the recent The Lone Ranger) returns home to Texas after the Civil War to find that all is not right there.  He becomes involved in a conflict with a brutal neighboring cattle rancher (William Forsythe) who has been harassing his family in his absence.  Described as "a western-thriller," directed and co-written by Australian Kane Senes.
Slow West (screened at the Sundance Film Festival in January 2015 and released in May 2015).  Kodi Smit-McPhee stars as a 16-year-old Scottish boy who befriends a mysterious bounty hunter (Michael Fassbender) on the Colorado frontier of 1870 while in search of the woman he loves (Caren Pistorius).  A coming-of-age and coming-of-death story filmed in New Zealand.
Bone Tomahawk (released in theaters and video-on-demand in October 2015).  In this western with supernatural/thriller overtones, Kurt Russell stars as a sheriff leading a small band to rescue captives from cannibalistic cave dwellers.  Also starring Richard Jenkins, Patrick Wilson, Matthew Fox, David Arquette, Lili Simmons and Sean Young.
Jane Got a Gun (looking for a distributor in mid-2015; originally set for release in September 2015, now looks like it will be out in Jan. 2016 from The Weinstein Company.  Available on DVD and VOD in late April 2016).  Natalie Portman tries to get a former lover (Joel Edgerton) to help her in rescuing her husband (Noah Emmerich) from the Bishop Boys, outlaws led by Ewan McGregor.  After a sometimes-troubled production, the film (directed by Gavin O'Connor) is now finished.
The Revenant (filming in early 2015 near Calgary, Alberta; currently scheduled for general release in January 2016.  Available on DVD and VOD in April 2016.)  Leonardo Di Caprio stars as mountain man Hugh Glass, mauled by a grizzly bear and left for dead by his companions in 1823.  Glass struggled alone more than 200 miles back to civilization in that condition, to find the men who had abandoned him.  With Tom Hardy, Domhnall Gleeson and Will Poulter; by Mexican director Alejandro G. Iñárritu, who did (and won the Best Director and Best Picture Oscars for) Birdman in 2014.  Based on a novel by Michael Punke.
The Ridiculous 6 (Netflix -produced western comedy, to be released on Netflix in Dec. 2015).  This Adam Sandler-penned work is said to be a satire on westerns generally and on The Magnificent Seven in particular.  In addition to Sandler, it stars Will Forte, Taylor Lautner, Steve Buscemi, Danny Trejo, Terry Crews, Luke Wilson, Nick Nolte, Rob Schneider and Jorge Garcia.  Western comedies in general are hard to pull off well, and Sandler's recent cinematic work does not inspire confidence.
The Hateful Eight (released in December 2015; available on DVD and VOD in April 2016).  Quentin Tarantino directs Kurt Russell and Samuel L. Jackson in this hard, gritty tale about eight individuals, including bounty hunter Russell and a murderous female captive being brought to justice, all trapped together during a Wyoming blizzard.  The eight also include Tim Roth, Jennifer Jason Leigh, Bruce Dern, Walton Goggins and Michael Madsen.  Available in some locations in a 70 mm. version, it's almost three hours long.
Diablo (released in theaters and VOD in Jan. 2016).  In this first western for Scott Eastwood (son of legendary western star Clint), he is a Civil War veteran in 1872 Colorado Territory, tracking Mexicans who have abducted his wife.  Walton Goggins, Danny Glover and Adam Beach co-star.  Rated R for violence.
Forsaken (released in Feb. 2016, in theaters and VOD).  Actors Kiefer and Donald Sutherland star in this story of a reforming gunslinger trying to remake a relationship with his preacher father.  In 1872, Civil War veteran and gunslinger John Henry Clayton (Kiefer Sutherland) returns to his Wyoming hometown to patch things up.  But a local gang led by Brian Cox won't quit pushing the father and son.  Demi Moore plays a former romantic interest, now married.  Directed by Jon Cassar, best known for his work on Kiefer Sutherland's television series 24.  Rated R for violence and Brian Cox's mouth.
The Duel (in theaters and VOD in late June 2016).  Woody Harrelson, Liam Hemsworth and Alice Braga star in this R-rated tale of a Texas ranger (Hemsworth) investigating a series of unexplained deaths in the town of Helena, and the secrets of the town's leader (Harrelson).   Directed by Australian Kieran Darcy-Smith.
Outlaws and Angels (shown at the 2016 Sundance Film Festival; scheduled for release in July 2016).  Another Eastwood offspring in the family business (see Diablo).  "A western-thriller hybrid starring Chad Michael Murray, Teri Polo, Luke Wilson and Francesca Eastwood.  For the Tilden family, a home invasion turns into an even more dangerous game.  J T Mollner wrote and directed."  (NY Times)
In a Valley of Violence (scheduled for release in 2016).  Ti West wrote and directed this revenge western set in the 1890s, with John Travolta, Ethan Hawke and Taissa Formiga.
The Magnificent Seven (scheduled for release in Sept. 2016).  Antoine Fuqua directs this remake of the 1960 classic with a more racially diverse cast for the seven, still defending a town against dozens of bandits.  With a cast headed now by Denzel Washington in the Yul Brynner role, with Chris Pratt and Ethan Hawke among those joining him, this is now in production.  This big-budget version, with a director known for action movies, is nevertheless a considerable risk.
Brimstone (shown at Venice Film Festival and Toronto International Film Festival in 2016; still looking for a U.S. distributor in Sept. 2016; finally released in March 2017).  Kit Harington, Dakota Fanning and Guy Pearce in a dark story of revenge with horror overtones.  Martin Koolhoven directs from his own screenplay.
Far Bright Star (pre-production announced in Nov. 2015).  Casey Affleck directs brother-in-law Joaquin Phoenix in this tale of an aging cavalrymen leading green troopers in the fruitless 1916 pursuit of Pancho Villa across northern Mexico.  Based on a novel by Robert Olmstead.  (Echoes of They Came to Cordura.)
Z (production to begin in fall 2016 at Pinewood Dominican Republic Studios).  Director-writer Jonas Cuaron heads this remake of the Zorro story set in the near future, to star Gael Garcia Bernal.
The Legend of Ben Hall (2016).  Australian bushrangers, fighting the authorities and betrayal from within.
Wind River (August 2017).  A modern western set in western Wyoming's mountainous Shoshone-Arapaho reservation.  A young Arapaho woman is found murdered, and a tracker-hunter (Jeremy Renner) who has also lost a daughter is drawn into the investigation with an inexperienced female FBI agent (Elizabeth Olson).  It has a good feel for western wilderness and the interfaces of white-Indian cultures, along with some excellent performances by Indian actors, including Graham Greene and Gil Birmingham.
Hostiles (December 2017)  Christian Bale and Rosamund Pike star in this slow-moving revival of the cavalry western subgenre.  Bale is a cavalry captain taking Cheyenne chief Yellow Hawk (Wes Studi) to Montana in 1892.  On the way, they pick up Pike, whose family has just been slaughtered by Comanches.  Director Scott Cooper is being touted by the studio for a Best Director Oscar nomination, but that seems doubtful.  The San Francisco Chronicle's Mick LaSalle observed that "Apparently being home on the range, in those days, amounted to long, long stretches of nothing happening, interspersed with brief spasms of violence and horror."
The Ballad of Lefty Brown (December 2017)  The Lefty Brown of the title is an old cowboy played by Bill Pullman, who seeks justice for the murder of his old partner (Peter Fonda), with the help of a young would-be gunslinger and an aging, alcoholic U.S. marshal.  Directed by Jared Moshe.
Damsel (June 2018)  This western comedy is set in the west of 1870, starring Robert Pattinson and Mia Wasikowska.  Samuel Alabaster, an affluent pioneer, ventures across the American frontier to marry the love of his life, Penelope.  As his group traverses the west, the once-simple journey grows treacherous, blurring the lines between hero, villain and damsel.  Directed by David Zellner and Nathan Zellner.
Woman Walks Ahead (June 2018)  Widowed Catherine Weldon (Jessica Chastain), a portrait painter from 1890s Brooklyn, travels to Dakota to paint a portrait of Sitting Bull and becomes embroiled in the Lakota peoples' struggle over the rights to their land.  Based on the true story of Catherine Weldon.  A socially-conscious attempt to revise traditional thinking about both Indians and women, directed by a woman (Susanna White).  Also starring Michael Greyeyes and Sam Rockwell.
The Sisters Brothers (Fall 2018)  Joaquin Phoenix and John C. Reilly star as the brothers Eli and Charlie, assassins in 1851 Oregon on the trail of a prospector (Jake Gyllenhall) who has stolen from their boss.  Based on the darkly comic novel of the same name by Patrick DeWitt and directed and co-written by Jacques Audiard.
The Ballad of Buster Scruggs (November 2018)  Written and directed by the Coen brothers (see the True Grit remake), this is an episodic collection of six tales set in the old West, with common themes.  Among the cast members are Liam Neeson, James Franco and Tim Blake Nelson.  Released Nov. 9, and available for streaming on Netflix a week later.
The Kid (First half of 2019)  The title seems to refer to two people:  New Mexico outlaw Billy (Dane DeHaan) and a boy who witnesses his fatal encounter with Sheriff Pat Garrett (Ethan Hawke).  Billy, like Jesse James, never seems to go completely out of style.  The cast includes Vincent D'Onofrio, who also directs, and Chris Pratt.
True History of the Kelly Gang (2019)  George Mackay stars as Ned Kelly in the latest version of the Australian bushranger's story, along with Charlie Hunnam, Nicholas Hoult and Russell Crowe.  Based on a novel by Peter Carey and directed by Justin Kurzel.  "This is an edgy, bleak and fantastical account of Ned Kelly's life. The film is not a rote adaptation of the novel by Booker Prize winner Peter Carey."  "There's a lot of intensity without substance."
Hell on the Border (in theaters and VOD, December 2019)  Based on the exploits of Bass Reeves, a black deputy U.S. marshal in Indian Territory (later Oklahoma), with David Gyasi as Reeves.  Also starring Ron Perlman, Frank Grillo and Zahn McClarnon.  Written and directed by Wes Miller.
News of the World (December 2020)  Tom Hanks stars with Helena Zengel in this adaptation of a best seller by Paulette Jiles, about an intinerant news reader and his rescue of a young girl in Texas who had been a captive of the Kiowas.  Directed by Paul Greengrass.
The Harder They Fall (Netflix, November 2021; also the title of a 1956 Bogart film).  Idris Elba stars as Rufus Buck in this heavily-romanticized recasting of the multi-racial gang's exploits as a black power revenge narrative.  The film gathers a variety of historical black characters from the west (Stagecoach Mary, Jim Beckwourth, Bill Pickett, Bass Reeves et al.) who never actually met for Buck to fight the supposed rival gang of Nat Love.  Also starring Zazie Beetz, Jonathan Majors, Regina King and Delroy Lindo.  Directed by Jeymes Samuel.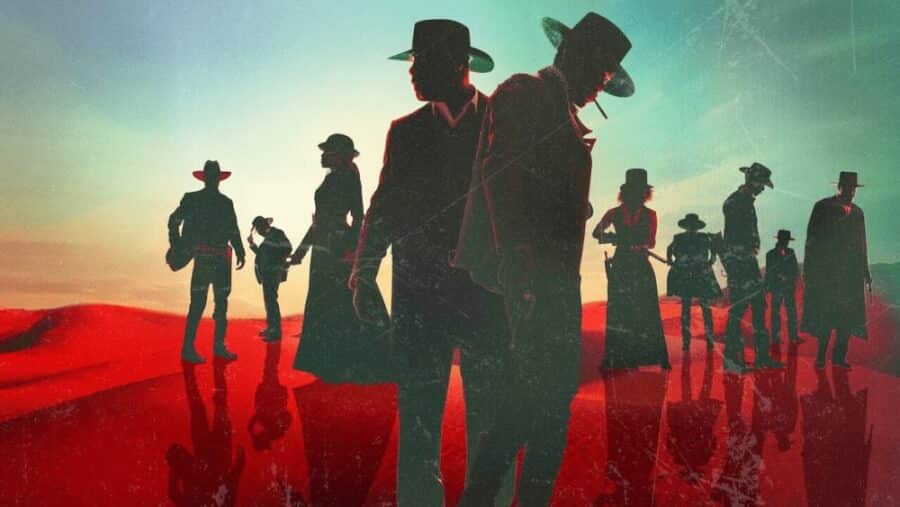 Old Henry (October 2021) "An action western about a widowed farmer and his son, who warily take in a mysterious injured man with a satchel of cash.  When a posse of men claiming to be the law come for the money, the farmer must decide who to trust. Defending a siege of his homestead, the farmer reveals a talent for gun-slinging that surprises everyone calling his true identity into question."  Directed by Potsy Ponciroli, with Tim Blake Nelson, Stephen Dorff, Trace Adkins.
Bounty hunter Christoph Waltz in Dead for a Dollar.
Dead for a Dollar (in post-production, late 2021; scheduled for theatrical release in late September 2022)  The attraction here is the director (Walter Hill) and the cast (Willem Dafoe, Christoph Walz, Hamish Linklater, Rachel Brosnahan).  Director Hill co-wrote this bounty hunter story and is one of the greatest living directors of westerns.  In late October 2021, he was looking for a distributor for this.  The plot is reminiscent of The Professionals, with bounty hunter Christoph Waltz heading south of the border for an improbable rescue, only to encounter elements of his past, including gambler/outlaw Willem Dafoe.
The Power of the Dog (released in late 2021)  This takes place in the Montana of 1925, so it is a western kind of like A River Runs Through It, except that it deals not with fly fishermen but with a ranching family, the Burbanks.  Directed by Oscar-winning New Zealander Jane Campion, and starring Benedict Cumberbatch, Kirsten Dunst and Kodi Smit-McPhee (previously seen in Slow West), it is a family saga full of conflict and themes redolent of Brokeback Mountain.  In early 2022 it is getting heavy award-season push; Benedict Cumberbatch was nominated for a Best Actor Oscar for his portrayal of "toxic masculinity," as one reviewer put it.  Images from the movie are dominated by Cumberbatch's peculiar beat-up hat.  In fact, the movie received twelve Oscar nominations, the most of any film, including Best Picture and Best Direction for Campion, along with three Supporting Actor nominations for Dunst, Jesse Plemons and Kodi-Smith.  Available on Netflix and in theaters.  Rated R for nudity and brief sexual content.  Adapted from a 1967 novel by Thomas Savage.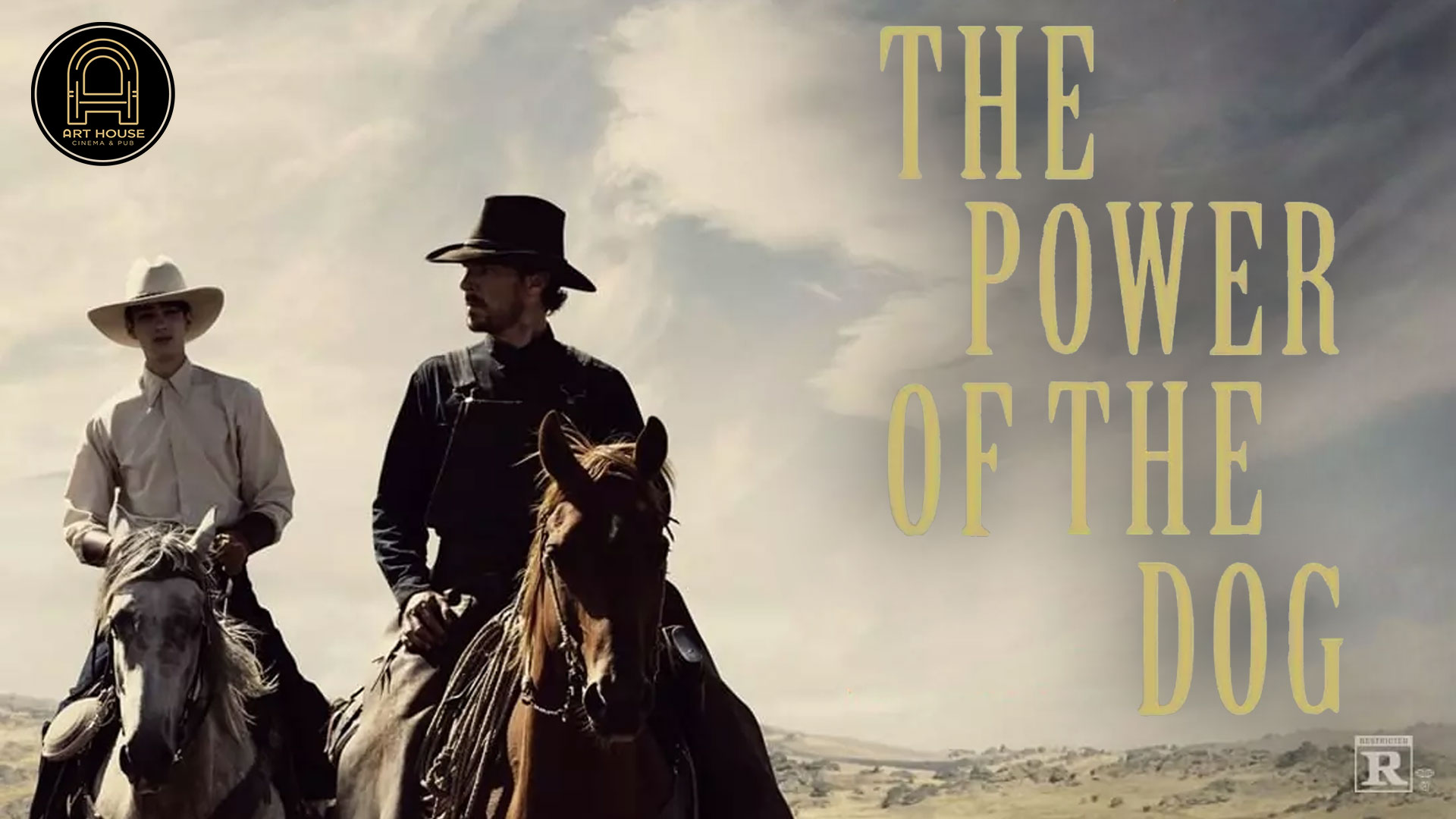 Butcher's Crossing (premiere at Toronto Film Festival, Sept. 2022)  A bleak frontier epic about an Ivy League drop-out (Fred Hechinger) as he travels to the Colorado wilderness, where he joins a team of buffalo hunters on a journey that puts his life and sanity at risk.  Sometimes described as an "anti-western", whatever that means (usually transplanting modern attitudes back to a time they didn't really belong).  Based on the highly acclaimed novel by John Williams.  Directed by Gabe Polsky, starring Nicolas Cage and Rachel Keller.  Rated R for language, some violence/bloody images and brief sexual content.
The Old Way (Jan. 2023)  Former gunfighter Colton Briggs (Nicolas Cage) must deal with elements of his past and reverts to his former skills as he seeks revenge for the killing of his wife.  Along the way, he teaches his 12-year-old daughter (Ryan Keira Armstrong) about the old ways.  Also starring Clint Howard and Noah LeGros.  Rated R for violence.
Nicolas Cage and daughter Ryan Keira Armstrong seek revenge.
Two Sinners and a Mule (April 2023)  Two ladies of pleasure (Chantelle Albers and Hannah James), kicked out of a Nevada town, run across a bounty hunter (Cam Gigandet) shot to hell. After nursing him back to health, the ladies decide he needs their help to track down Gila Grimes, a ruthless, murdering bandit, for half of the bounty.  Directed by Raliegh Wilson.  Rated R for violence, sexual assault and other sexual material.
Apacheria (In development, 2018)  Based on Paul Andrew Hutton's history The Apache Wars.  Starring Charlie Hunnam as a mixed-race warrior.
Empire of the Summer Moon (In development, 2018)  Based on S.G. Gwynne's history of the late Comanche period, the film is said to focus on Kwahadi Comanche band chief Quanah Parker.  Derek Cianfrance co-wrote and directs.
Palominas (supposedly scheduled for release in February 2017).  Wes Studi, Ryan Merriman and Michael Parks star in writer-director Thadd Turner's story of a rancher and a down-trodden sheriff confronting outlaws on the Mexican border at the end of the 19th century.
The Hard Ride (said to be "in development" for a potential release in late 2017).  Like Palominas, this is also written and directed by Thadd Turner.  It is said to involve action around a "legendary gunfighter" and his friends in Deadwood in 1876.  Stars include Ryan Merriman and Buck Taylor.  At one time Val Kilmer (as Bill Hickok) and Elizabeth Shue were attached to the project, but apparently no longer.
Save
Save
Save
Save
Save
Save
Save
Save
Save
Save
Save
Save
Save
Save
Save
Save